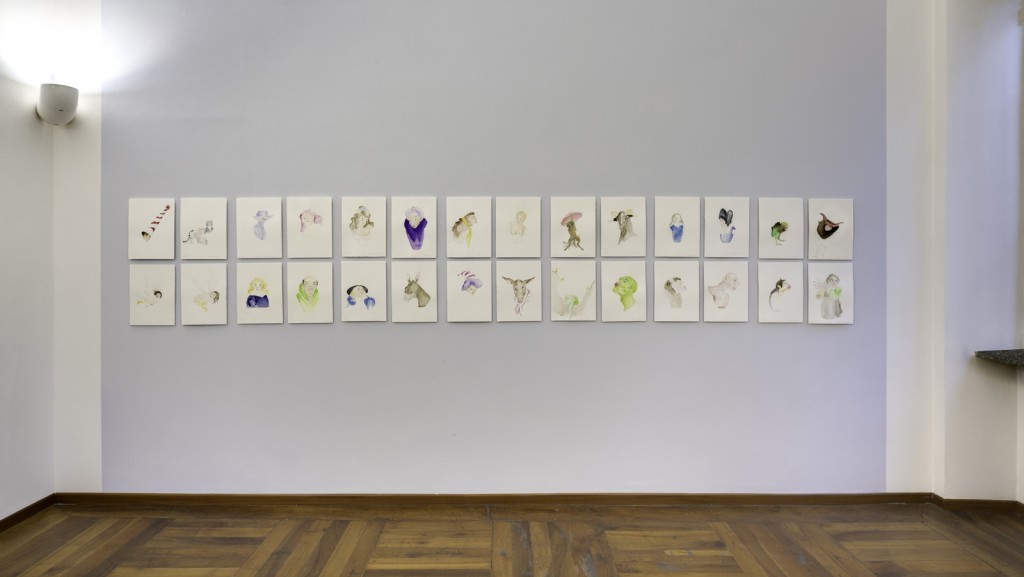 2007-ongoing Watercolor and colored pencil on paper
15 x 11 ¼ inches/ 38 x 28.5 cm
The Noble Savages series, which began as character sketches for sculptural busts, evolved into a larger portfolio of watercolor and graphite portraits. The drawings were inspired by Francisco de Goya's Los Caprichos (1799), an album of eighty etchings. A keen observer of human behavior, Goya was particularly skilled at capturing personality types and arranging them according to certain criteria.
Goya's Los Caprichos etchings are divided into three sections. The first group depict people engaged in immoral yet socially condoned behaviors, the second (plate numbers 37 to 42) depicts stupidity, while the final group represents goblins and other supernatural figures who parade as humans. I see these etchings as a catalogue of personality types that are still relevant today. The connection between my drawings and specific Goya etching plates is indicated by a code.
By putting them on paper, I remove Goya's characters from their original context and, at the same time, develop a feeling for their personality. In this way, the drawing process informs my hand-sewn hemp sculptures, each of which expresses a different personality type.
Marguerite Kahrl