2015-ongoing
Participatory project initiated by Marguerite Kahrl and Marjetica Potrc during a workshop at Parco Arte Vivente (PAV), Centro Sperimentale d'Arte Contemporanea, Turin, Italy
Initial funding provided by PAV
The participatory project began with an analysis of urban areas around PAV, during a workshop entitled Wild Energies held by Marjetica and Marguerite, in March 2015. The workshop included practices, a review of permaculture design principles, and examples of community spaces with the capacity to build resilient neighborhoods, mapping, on-site exploration and discussions with residents. The objective of the workshop was to identify nodal points of the neighborhood (social and environmental) for a year long onsite project, towards the construction of a more balanced and inclusive society. Ex Moi was selected as the context for the collaborative project despite concerns over the complexity involved.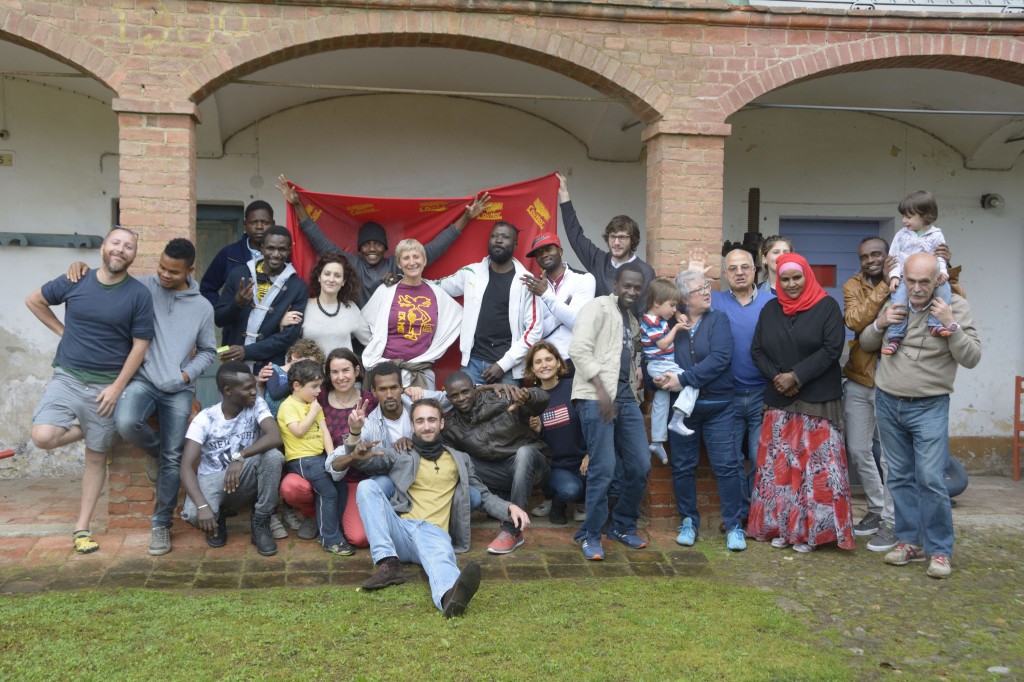 Con MOI is an informal group of "migrants" and Italian citizens that was formed in Turin in May 2015, in the former Olympic buildings in the so-called Ex-MOI area on Via Giordano Bruno, in the Lingotto district. This is where 1,200 people, migrants and refugees from many different countries, have been living for the past four years. In this delicate and complex environment, we have been working in collaboration with area residents to develop a collective identity; among other things, this means working together to transform deeply rooted habits.
Following the Wild Energies workshop, a collective, open process, developed as a possible model of intentional and solidarity community around the PAV and in the city of Turin. The onsite project progressed through a series of meetings and workshops with some teachers of the MOI school "Zakaria Kompaore" conducted by Marguerite Kahrl and Marco Regoli.
One of our activities has been to collect unsold food from markets and other retailers and redistribute it in the area without using money (food sharing). We invite individuals and informal social networks to take part in the Con MOI process, to experience different perspectives and perceptions of the world.
Other initiatives of the group include a logo to help promote the project, T-shirts, badges, a documentary film, and activities that transform various materials into real-life practice, such as Mini MOI, where members of the community in and around Ex-MOI created self-portraits out of donated textiles.
Reducing the dispersion of resources by reinvesting them in the area (redistributing "waste", developing artistic and creative activities, and encouraging cooperation) helps foster new attitudes of solidarity, the kind of solidarity we see in the resilient communities that inspire our vision and practice.
Con MOI was established as a Social Promotion Association in November 2016, and is affiliated with Arci.
Ongoing workshops supporting integration, public discussions, foodsharing, permaculture design, development of the commons are elaborated on the Con MOI website.
PRESS:
Al Pav le "Wild Energies" di Marjetica e Marguerite
Angelo Mistrangelo
La Stampa
2016
Energie selvagge
Q CODE Town
Sara Marchesi
2016